We offer in-house 24/7 emergency care
Telephone: 01753 858877
24/7 Emergency: 01753 865669
Chief Whip hints at fourth Westminster cat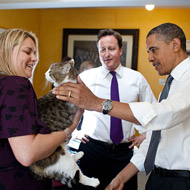 New mouser may be called Cromwell

There are rumours amidst at Westminster that a fourth Battersea mouser may be joining the ranks.

According to The Telegraph, the Chief Whip Gavin Williamson reportedly told Steve Back, a political photographer, that the new cat may be called Cromwell.

"The Chief Whip was going into Number 10 and Larry was on the doorstep. He said 'Oh, there's Larry!' and came to speak to me," said Mr Back.

"He said we are thinking of getting a cat in the Cabinet Office. I asked what they were thinking of calling it and he said 'Cromwell' in a tongue-in-cheek manner - but it seemed he had the name ready."

A Cabinet Office spokesperson told the Telegraph they are "looking into it" at the moment, but nothing is confirmed at this stage.

Just last week, Her Majesty's Treasury adopted a new cat, Gladstone, to help conquer the growing mouse problem at Westminster.

Joining Downing Street's Larry and Foreign Office cat Palmerston, he was the third feline to be adopted from Battersea Dogs & Cats Home.
Image (C) Official White House Photo by Pete Souza.