We offer in-house 24/7 emergency care
Telephone: 01753 858877
24/7 Emergency: 01753 865669
Fearless feline crowned 'Cat of the Year'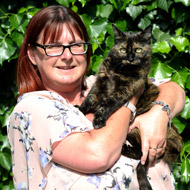 Brave tortie saved family from a house fire

A fearless feline that saved her family from a house fire has been crowned 'Cat of the Year' by Cats Protection.

Five-year-old Tink jumped onto her owner's bed to raise the alarm as flames engulfed their Shropshire home.

Thankfully her family managed to escape the house quickly, but Tink was overwhelmed by smoke and had to be resuscitated by firefighters.

"I can't explain how relieved and happy we were she pulled through. Tink is a truly special cat, we love her to bits," said owner Claire Hopkinson.

The family had been sleeping at their home in February when an electrical fault in a neighbour's property sparked the fire.

Recalling the night, Claire said: "I was fast asleep when I felt this thud on my legs and realised it was Tink. She doesn't sleep on our bed and it was unlike her to be on it. As soon as I opened my eyes all I could see was white smoke."

"My two sons sleep with their doors shut and when I opened Scott's door, this thick black smoke billowed out. The smoke had passed through the vent straight into his room and he was fast asleep. Because his door was shut the smoke hadn't yet reached the fire alarm – without Tink waking me Scott would have been in huge danger.

"We quickly got out of the house but, in the commotion, Tink took fright and hid behind a cupboard. When the firefighters arrived they asked if anyone was in the house and we explained our cat was.

"A firefighter went in and found her but, when he brought her out, she was unconscious and limp. We were heartbroken and thought we'd lost her. But the firefighters had a special oxygen mask for animals and Scott sat in the fire engine holding it on her for an hour until she came round."

The brave tortoiseshell was awarded both 'Hero Cat and 'Cat of the Year' at Cats Protection's National Cat Awards at The Savoy Hotel, London.

She follows in the paw prints of a long line of feline heroes honoured by Cats Protection. Previous winners include Jessi-Cat - who helped a little boy cope with Selective Mutism - and a one-eyed former stray who survived nearly 15 years living rough.
Image (C) Koray Erol/Caters News